Pair of basso-relievo ornithological studies by Isaac Spackman (1754-69)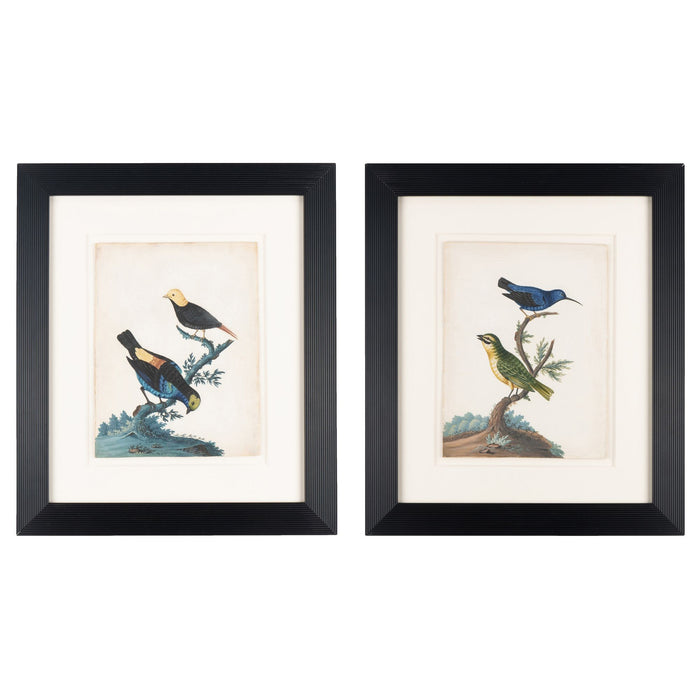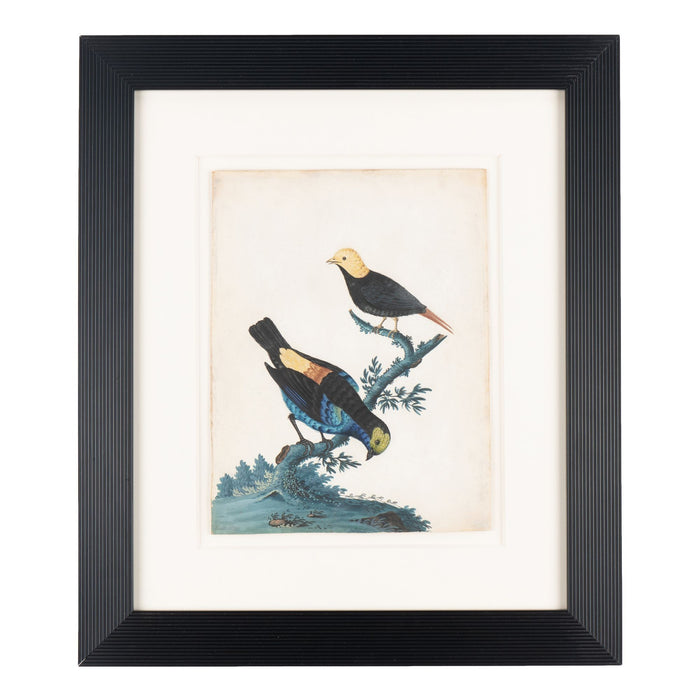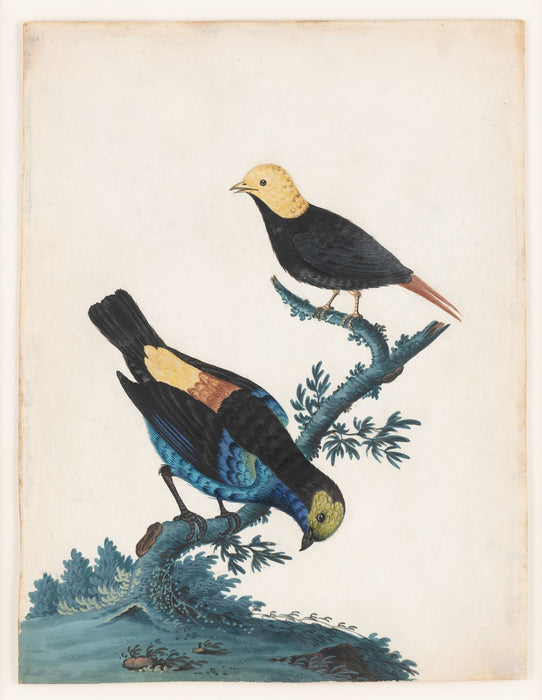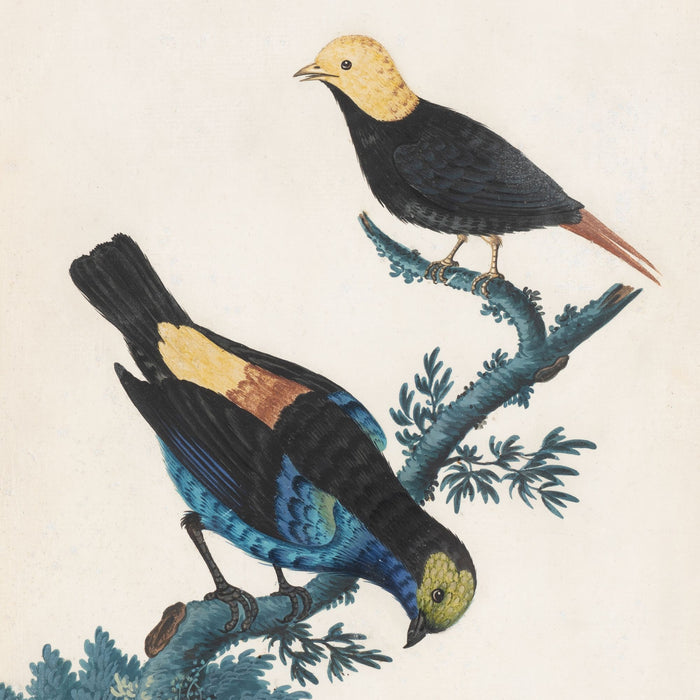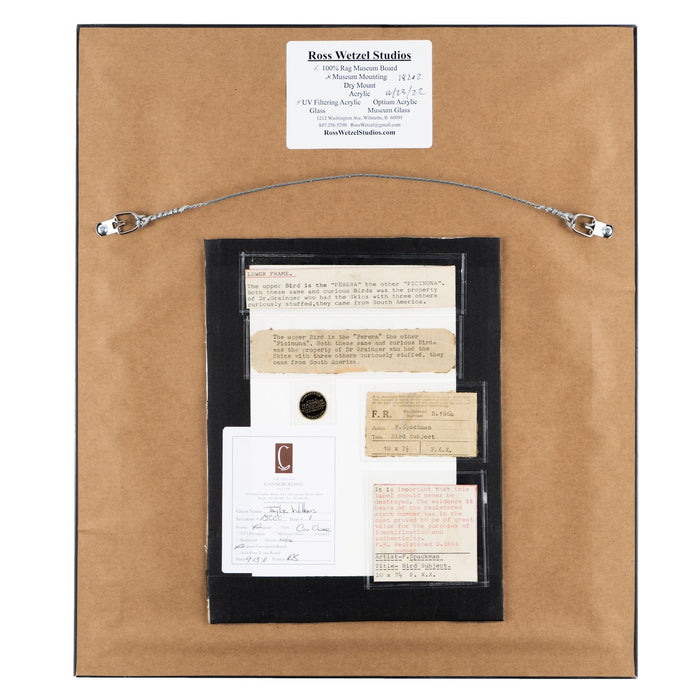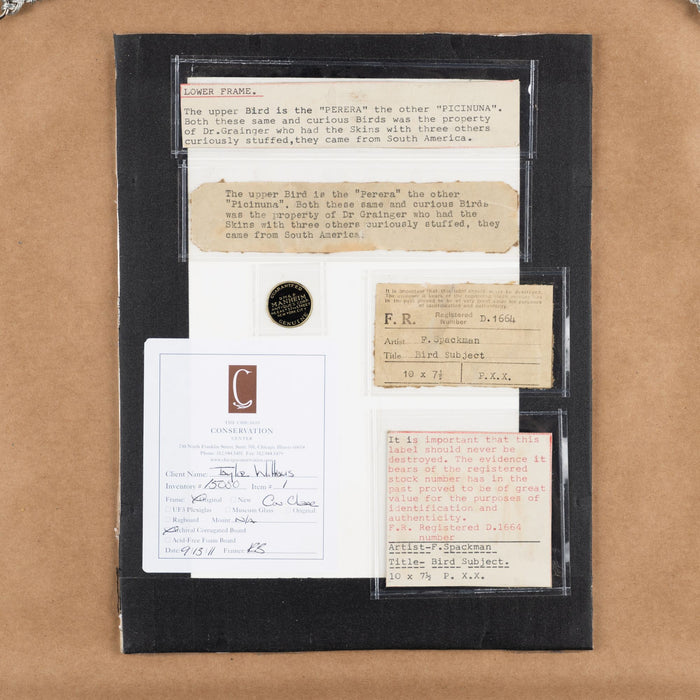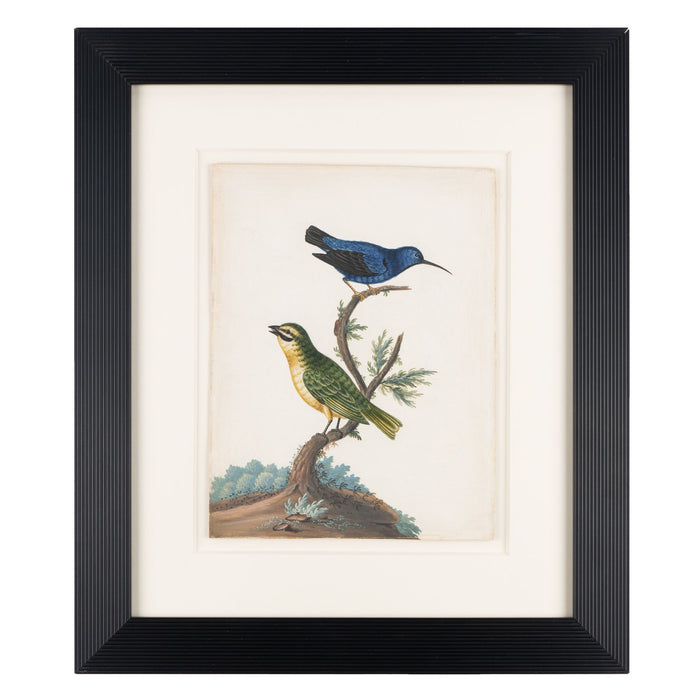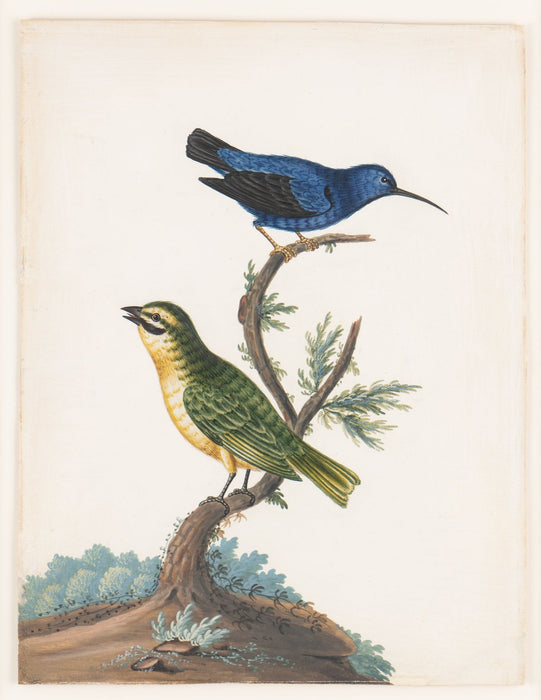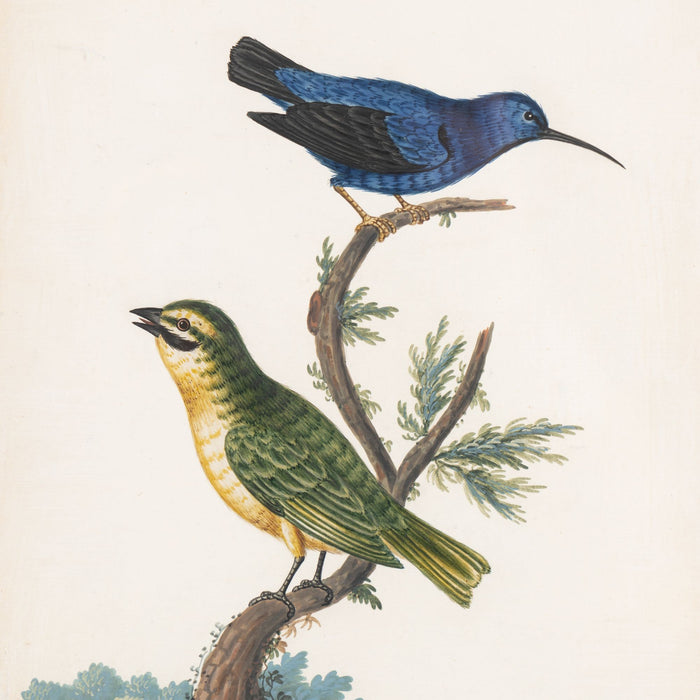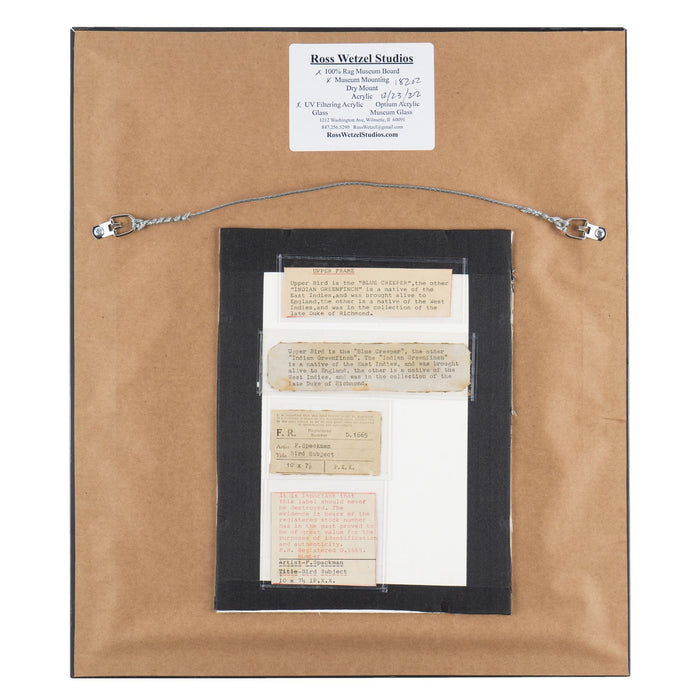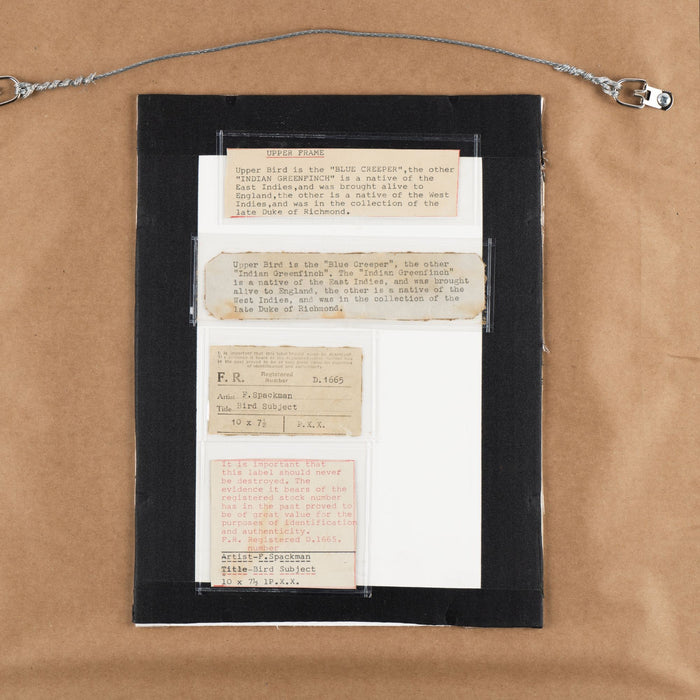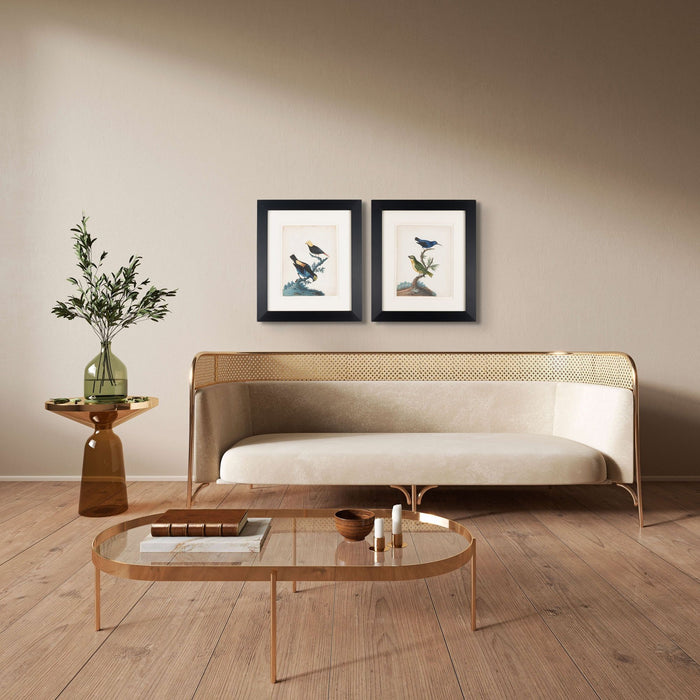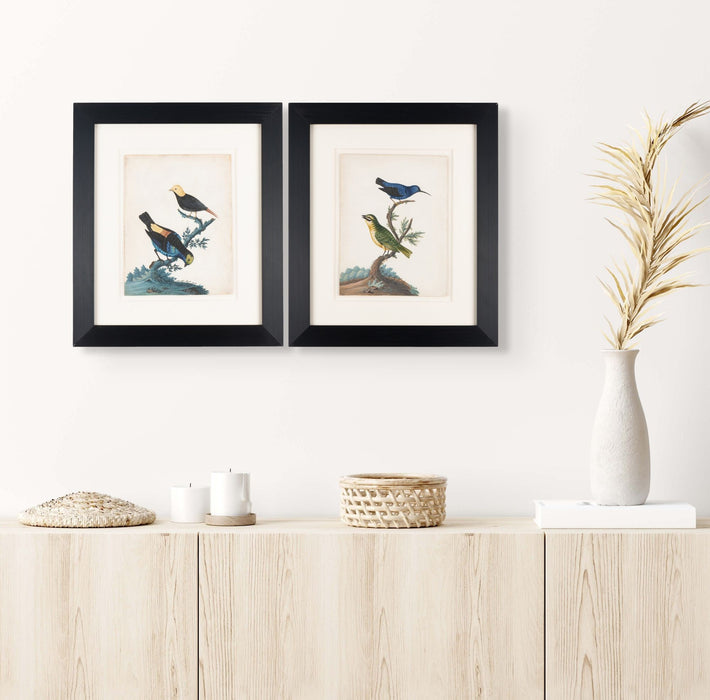 During the mid-eighteenth century, Irish artist Samuel Dixon invented and popularized a new painting technique known as basso-relievo, most notably used to embellish natural history subjects, especially birds and flowers. Artists employing the basso-relievo method used a copper-plate mould to emboss the the paper from the back to create a three-dimensional composition. Each work was then painted with watercolors and highlighted with gouache. These works were not only decorative paintings but models to be copied by amateur embroiderers and needleworkers of the time.
London-based artist Isaac Spackman imitated Dixon's technique, and like his contemporary, he borrowed imagery from George Edwards' Natural History of Uncommon Birds. However, each artist utilized the Natural History of Uncommon Birds imagery differently. While Dixon copied every detail of Edwards' compositions, Spackman copied only the birds. Dixon, who had three apprentices, could afford to replicate each minute detail, while Spackman, who worked alone, focused only on the avian subjects. 
The first work in this set features a Blue Creeper and a Indian Greenfinch. As indicated on the original label affixed to the reverse: "The Indian Greenfinch is a native of the East Indies, and was brought alive to England, the other is a native of the West Indies, and was in the collection of the late Duke of Richmond."
The second work features a Perera and a Picinuna, both South American birds. The original label states: "Both these same and curious birds was the property of Dr Grainger who had the skins with three others curiously stuffed, they came from South America."
Spackman produced his first set of twelve paintings in 1754, the second in 1764, and the third and final grouping in 1769.  
London, England, 1754-69.
Condition: Good condition with some discoloration to the edges. Both works have been professionally conserved and reframed in archival float mounts with ebonized reeded moldings under UV filtering glass. Wear commensurate with age and use.
Materials: Gouache, Watercolor, Embossed Paper
Dimensions: 15-3/8" W x 3/4" D x 18" H (framed)
8-1/4 W x 10-1/2" H (artwork)
SKU: 9470
Tear sheets are available on request. 
SHIPPING & DELIVERY:
The Federalist Antiques ships throughout the Chicagoland area, Nationally, and Internationally. The cost of shipping or delivery is not included in the purchase price and will be a separate charge. 
Before purchase please contact us for a shipping quote: info@federalistantiques.com
Our complete Shipping & Returns policies are here
Request Hold
Thank you for your interest in this piece!