Pair of colored engravings of American ships under sail by Jean-Jerome Baugean (c. 1840)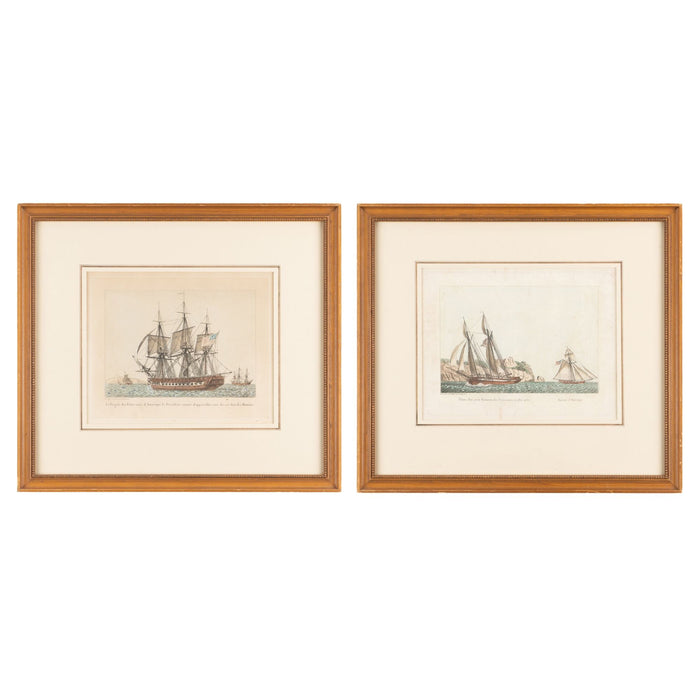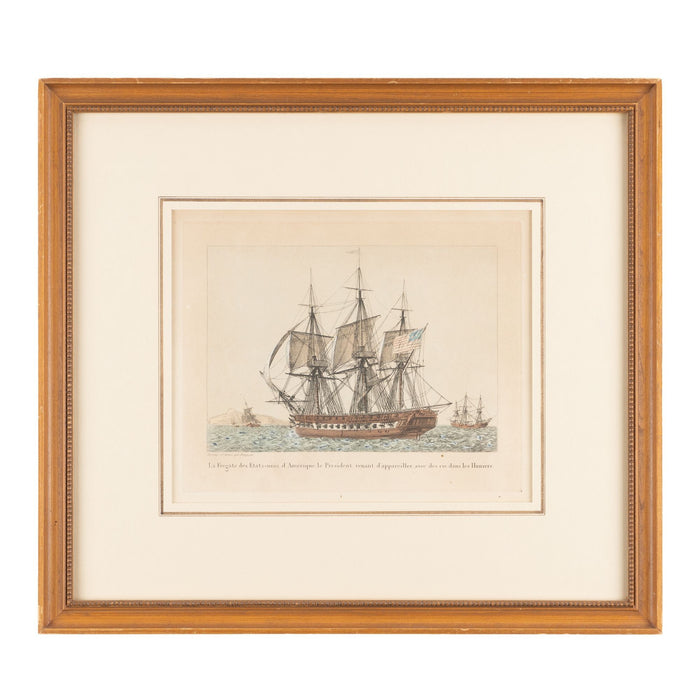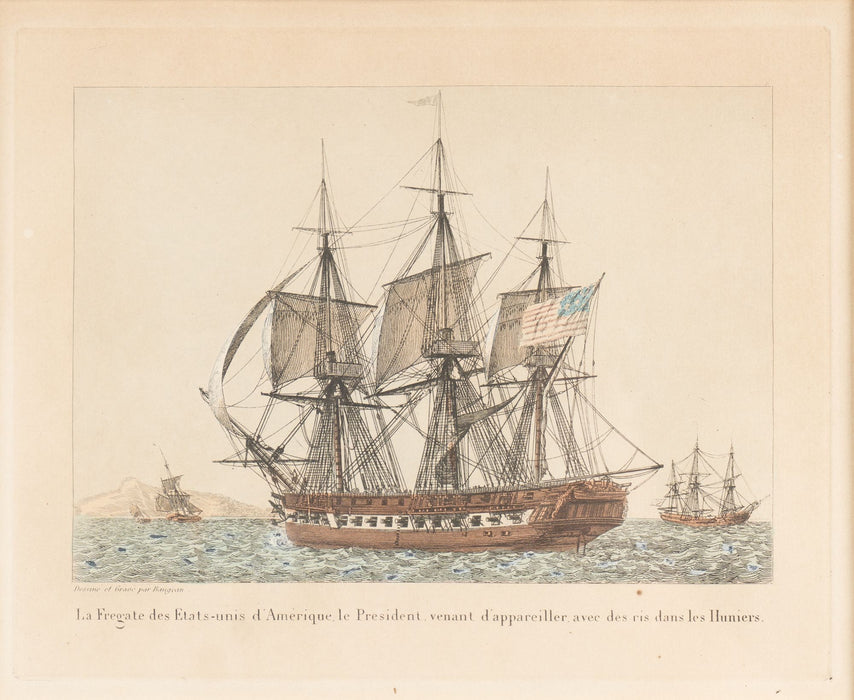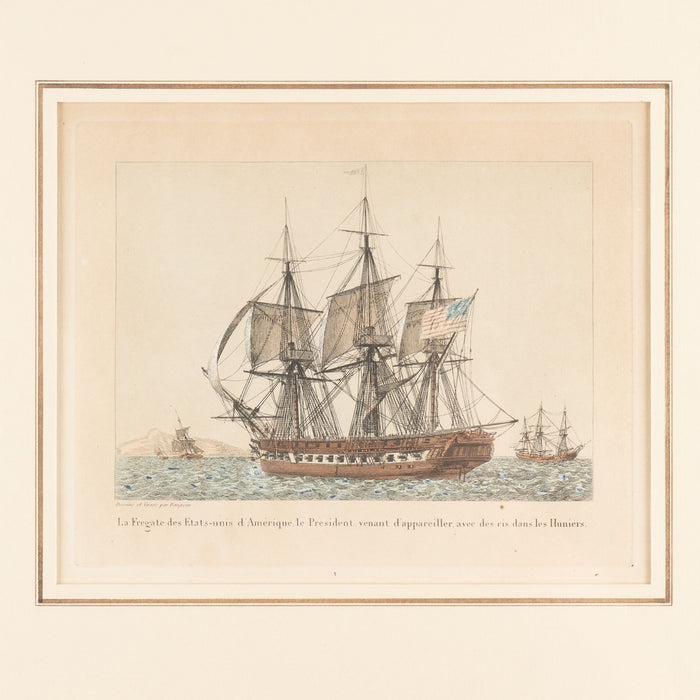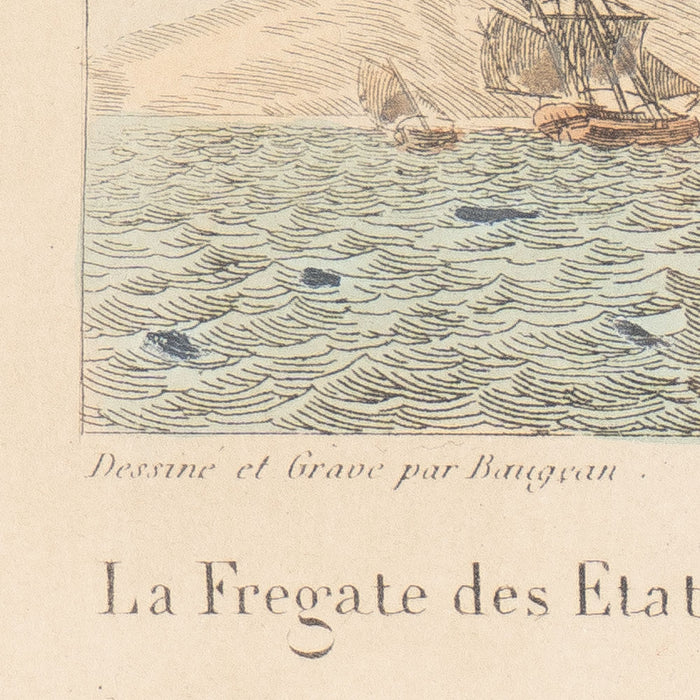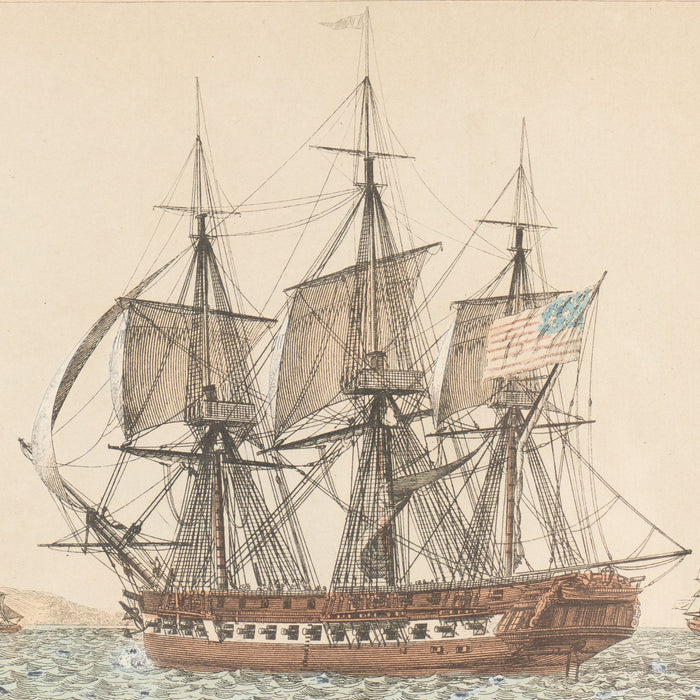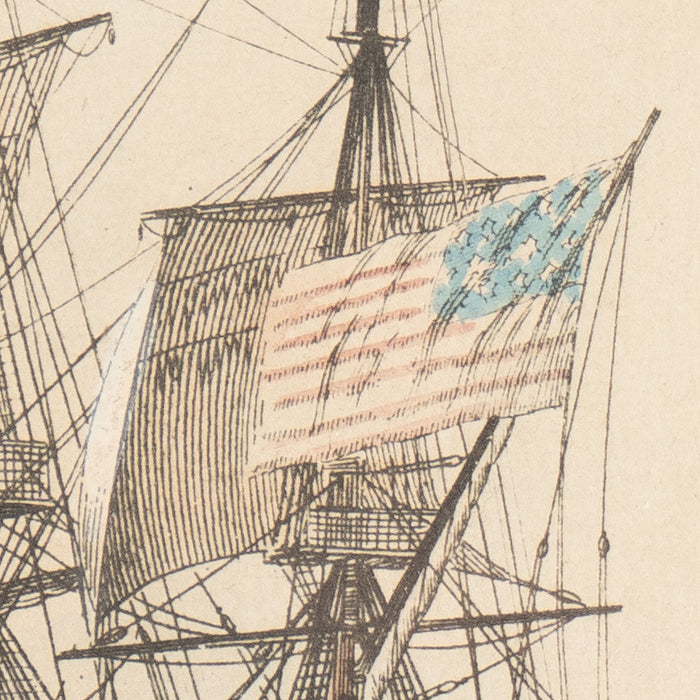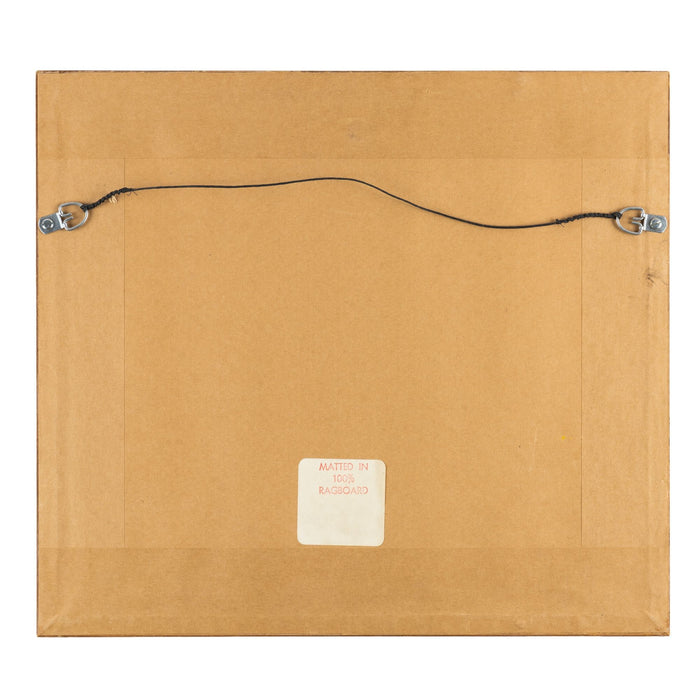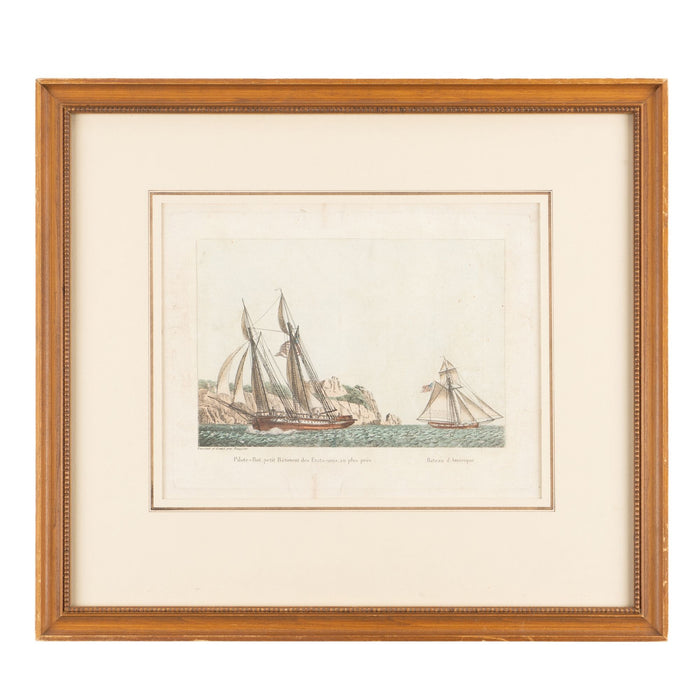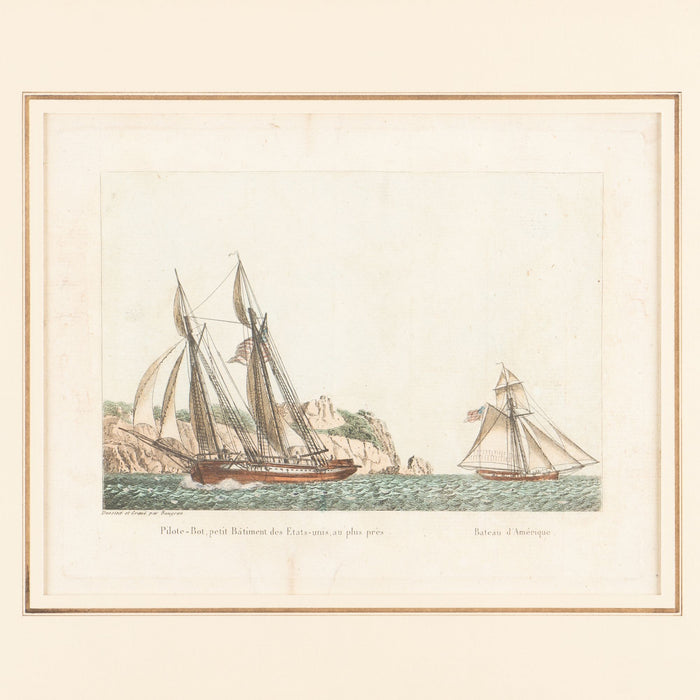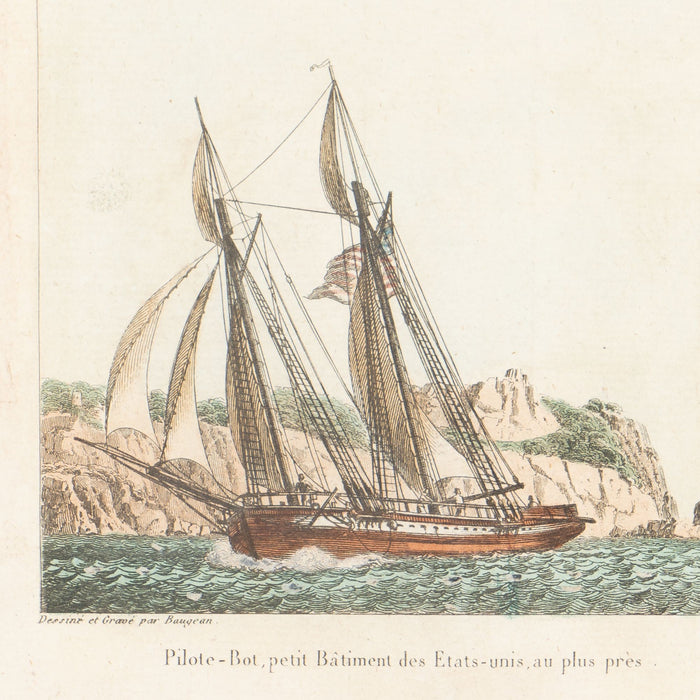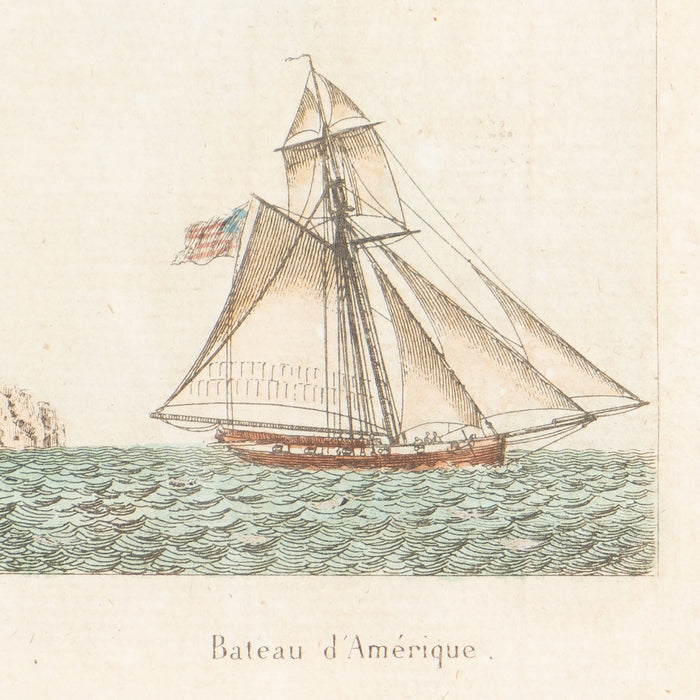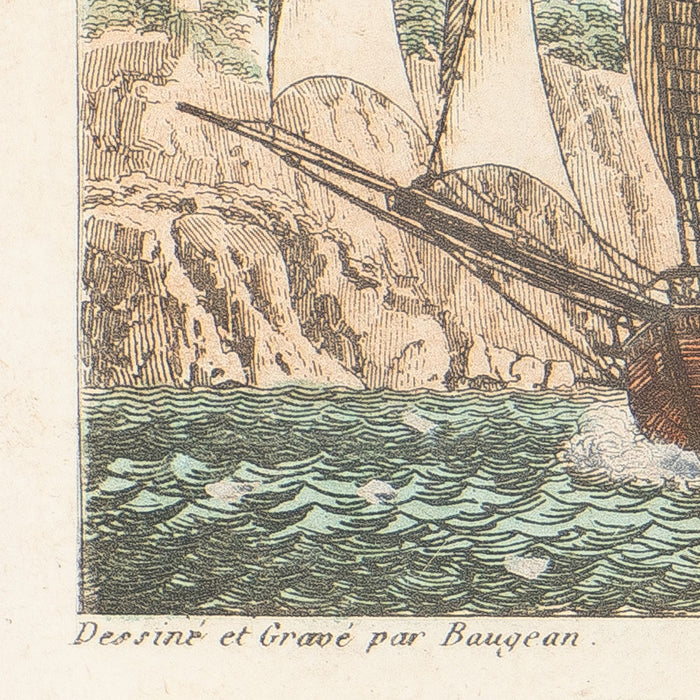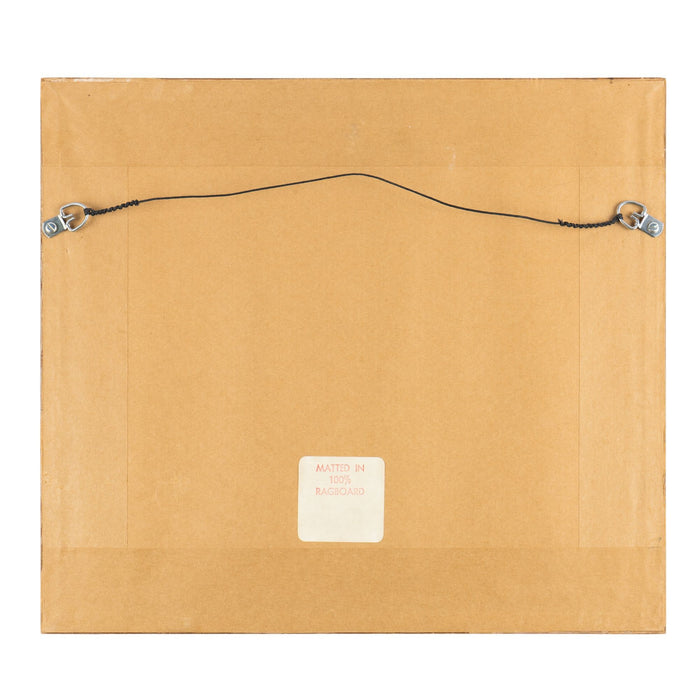 Pair of hand colored engravings of American ships under sail. 
The first work is of the USS President and is titled: "La Fregate des Etats-unis d'Amerérique le President, venant d'appereiller avec des ris dan lae Huniers." The work features the Frigate of the United States of America, the President, having just set sail, with reefs in the topsails, and three other ships in the distance. The USS President was a frigate of the United States Navy. Built at a cost of $220,910 in 1800, she carried 44 guns and 400 men. She was the flagship for Commodore Richard Dale in the Mediterranean. From 1801-1802 she made 23 captures in 4 cruises against the barbary pirates under Commodore Stephen Decatur. She was captured off New York on January 15, 1815 by a British squadron after running a 6 hour fight.
The second engraving is titled: "Pilote-Bot, petit Batiment des Etats-unis, au plus pres" and "Bateau d'Amerérique." This print shows two ships, one an American pilot boat and the other a Bermuda cutter, both flying American flags. Behind the American pilot boat is a shoreline of rocky cliffs.
Both engravings are from Baugean's book "Collection de toutes les Espèces de Bâtimens de Guerre et Bâtimens Marchands, qui naviguent sur l'Océan et dans la Méditerranée" or "Collection of all the Species of Warships and Merchant Ships, which sail on the Ocean and in the Mediterranean" which was first published in 1812, with subsequent publishings up until the 1970's. These works are from this book and are Plate 13 and Plate 56, respectively. 
Baugean lived from 1764-1819 or possibly 1830. He was born in Marseilles, France but through his works he travelled to and drew his work in Italy, Belgium, London, and the Eastern Mediterranean. He eventually became the engraver to King Louis XVIII. According to John Harland's book, "Ships & Seamanship: The Maritime Prints of J J Baugean," Baugean was an anti-British Frenchman who had royalist sympathies, and was most active during and just after the Napoleonic Wars of 1803 to 1815.
France, circa 1840.
Condition: Engravings are in good original condition with some scattered marks and fading. Wear commensurate with age and use.
Materials: Paper, Color Engraving
Dimensions: 14-5/8" W x 3/4" D x 13" H (framed)
SKU: 4821
Tear sheets are available on request. 
SHIPPING & DELIVERY:
The Federalist Antiques ships throughout the Chicagoland area, Nationally, and Internationally. The cost of shipping or delivery is not included in the purchase price and will be a separate charge. 
Before purchase please contact us for a shipping quote: info@federalistantiques.com
Our complete Shipping & Returns policies are here
Request Hold
Thank you for your interest in this piece!